Let's be honest, staging and drapery isn't a glamorous aspect of any event but is often necessary and indispensable. Many venues have difficult challenges that make setups a real headache. Over the years, Stagecraft has developed our own solutions to these problems that work well using equipment we designed and built along with commercial products. We provide a hassle free turnkey approach...tell us what you need and we'll make it happen. It doesn't get any easier!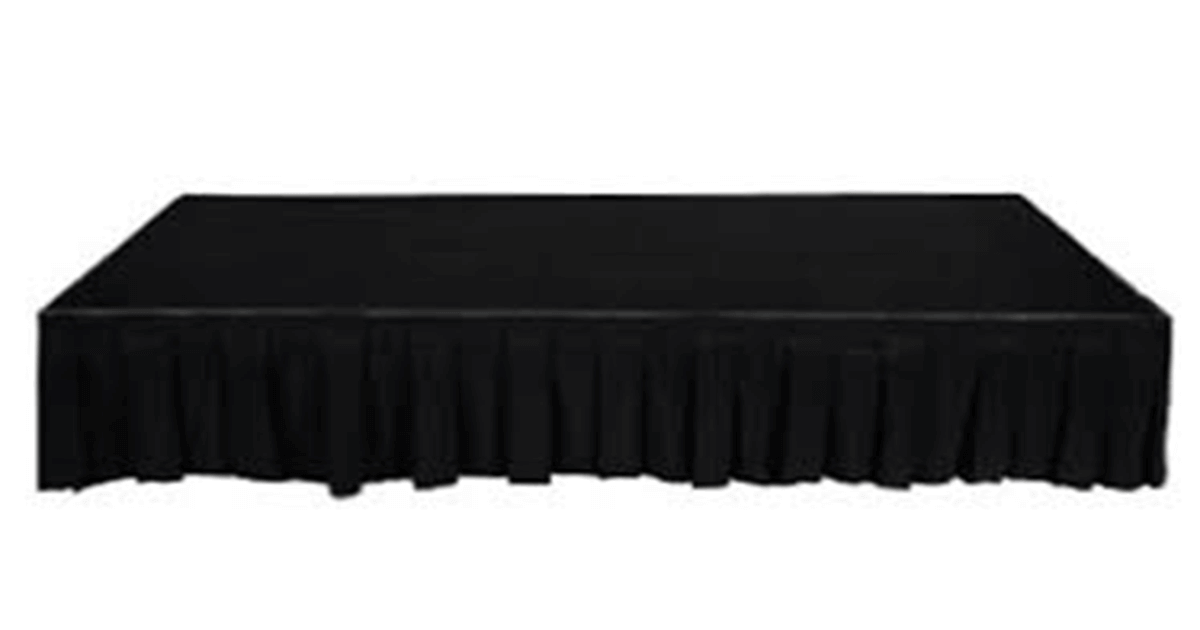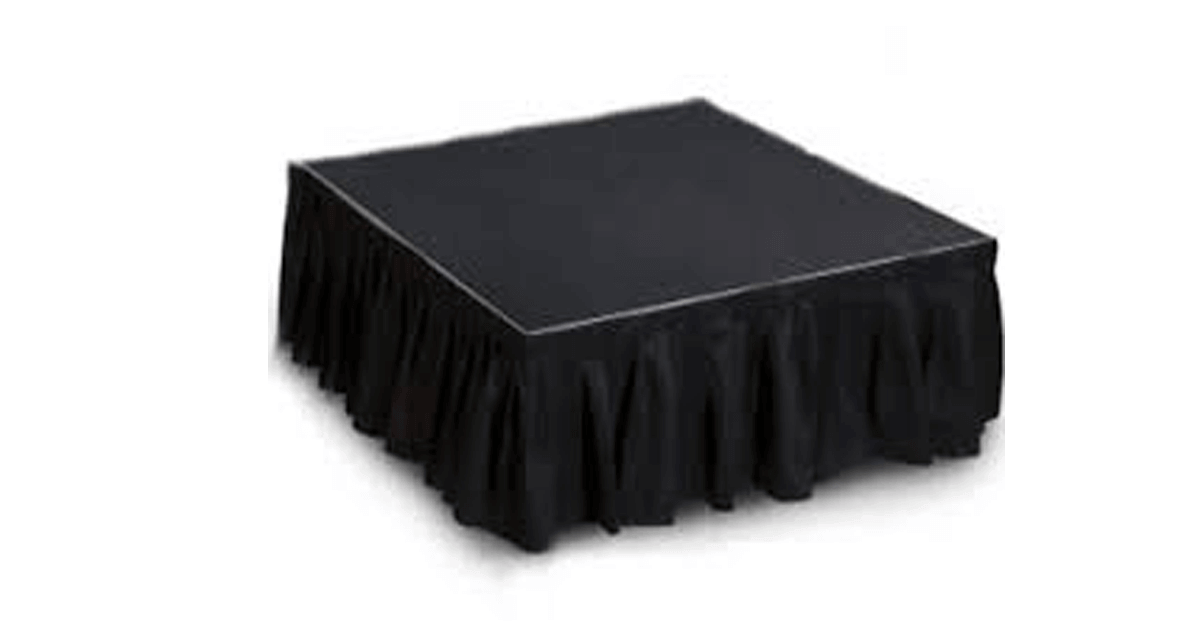 Event stages are typically modular designs based on stock components due to their one off single use nature. Most vendors use 4' square platform units that require two men to handle and take a lot of time to erect and tear down. Over the years, we found that four feet often isn't enough but eight feet is too much. Sometimes they simply won't fit in the available space! So we use a 4' by 6' rectangular module that gives us more dimentional options and can be handled by just one stage technician.
Other vendors use risers with folding legs. Problem is they are fixed height and can't change. We use film industry 'apple boxes' to support our stages that allow instant heights of 4", 8", 12", 16", or 24" with the added benefit that the weight is more evenly distributed on the floor protecting carpets from damage. For taller stages, our platform modules work with standard builder's scaffolding which we also have on hand. We also provide steps at 6" and 8" riser increments.
Some venues have limited physical access so our staging will fit on any elevator or navigate any corridor with a special dolly designed to make handling by a single technician possible. Setup and removal is very fast and we have done events where our event stage was quickly setup and removed during the event allowing the space to be repurposed. We manufacture our event staging in house and can design and build special requirements.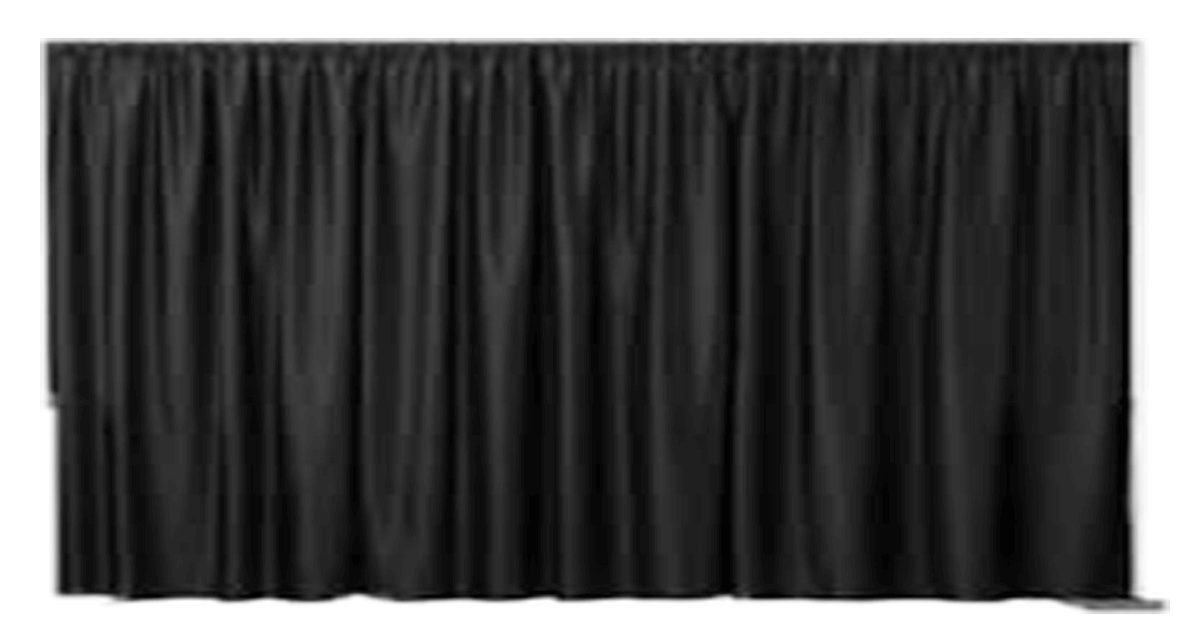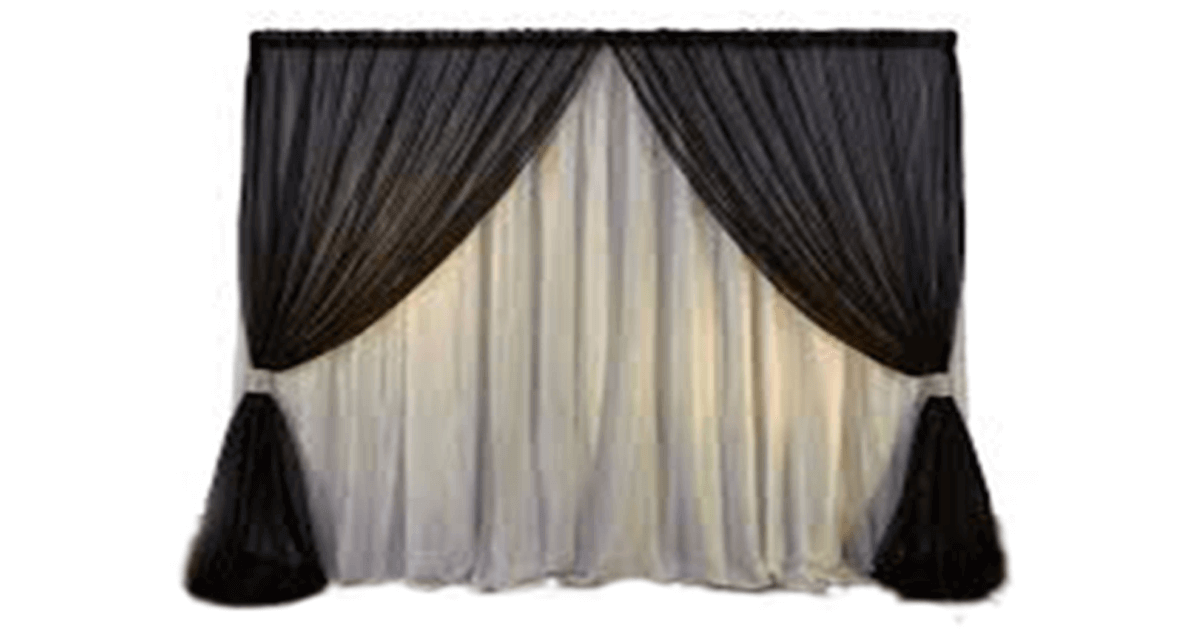 Often events need background drapes to dress out the stage, mask areas from view, or divide a room. We stock 12' high black drapes supported by quick setup 'pipe and drape' stands. These are adjustable from seven to twelve feet high and six to ten foot wide increments. They are quick to set up and provide an economical solution. Drapes feature a large top and bottom pockets to slip over cross bars.
If you want something fancier, we can also do overlays like this with white or colored drapes. Stock colors for overlays include gold, silver, red, blue, black, and white.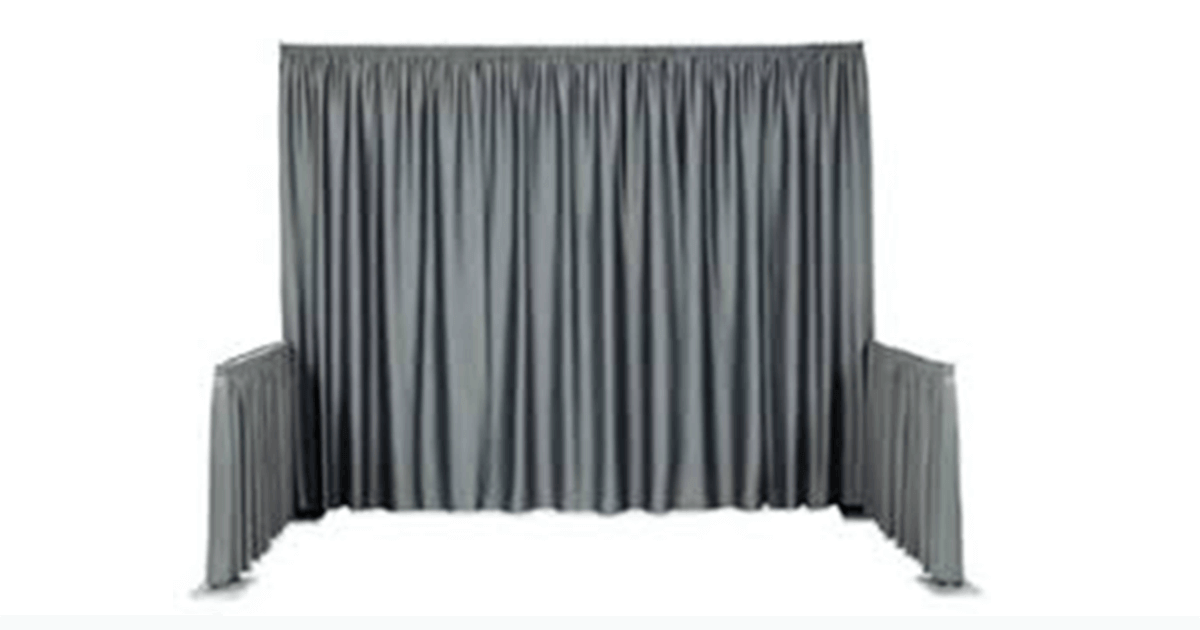 Some events like to have pipe and drape booths for registration tables or vendor/product displays and we can do that too. Our booths are black fabric, eight feet high in the rear and can vary six to ten feet in width. Side panels are three feet high and booth depth can vary six to ten feet. We can also do white or colored overlays on the rear to add visual impact. Stock colors for overlays include gold, silver, red, blue, black, and white.
Theatrical Platforms and Scenery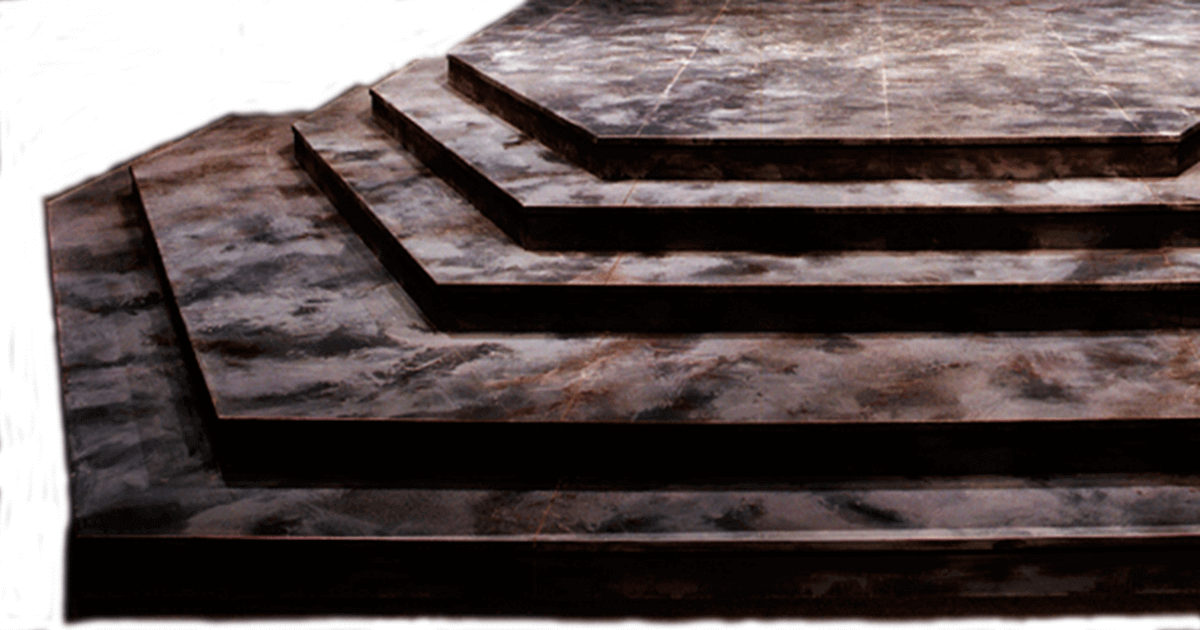 Stagecraft has it's own in-house fully equipped scene shop and we can build literally anything you can dream up--whether is a multipurpose unit set or a stage set for a specific script. We have built sets for professional opera, community theatre plays, and custom fashion shows for the shopping mall trade. We work with canvas, wood, and metal fabrication and can do scenery painting as well.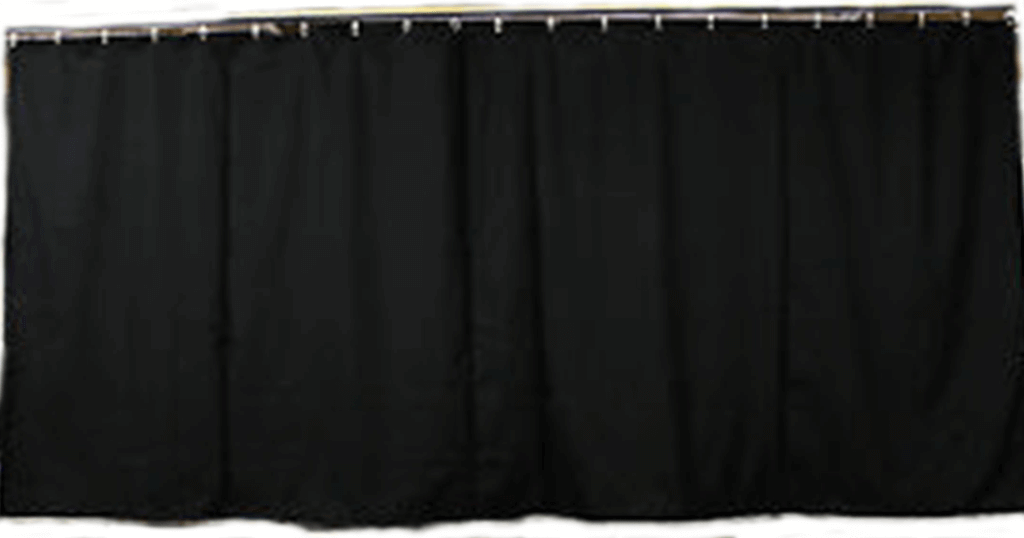 We carry conventional black stage drapes in black duvetyne with top grommets and bottom chain pockets in 9' and 11' heights. We can special order custom drapes of any size or fabric in standard, traveller, teaser, and tormentor styles.
Drape support options include:
Pipe and chain or cable
Truss with either hoists or truss lifters for spans over 25'
Light duty truss with floor stands for spans of 10',15', or 20'
We proudly serve these communities...
BUTLER COUNTY, OHIO
Fairfield, OH 45014 & 45018
Hamilton, OH 45011 & 45012
Middletown, OH 45042 & 45044
Monroe, OH 45050
Oxford, OH 45056
Trenton, OH 45067
West Chester, OH (45069)
WARREN COUNTY, OHIO
Franklin, OH 45005
Lebanon, OH 45036
Mason, OH 45040
Maineville, OH 45039
Springboro, OH 45066
Waynesville, OH 45068
MONTGOMERY COUNTY, OHIO
Centerville, OH 45440 & 45458
Downtown Dayton, OH 45401
Germantown, OH 45327
Kettering, OH 45429
Miamisburg, OH 45342 & 45343
Moraine, OH 45439
West Carrollton, OH 45449
⮜ UPLIGHTING SERVICES ⮤ HOME ⮥ ⮦ SITE MAP ⮧ SOUND REINFORCEMENT (PA) SERVICES ⮞